FAQs – Frequently Asked Questions:
What time do I need to order by to ensure same day dispatch?
In-stock items ordered and paid before 12:00 am EET will be dispatched the same day. In-stock items ordered and paid after 12:30 am EET will be dispatched the next working day*
*When paying with Direct Bank Transfer, the order will be dispatched once the payment is received.
How long it will take for my order to be delivered?
We are using the UPS and DPD international shipping companies.
Standard delivery in Europe takes 3-5 working days*
Express delivery in Europe takes 1-3 working days*
*Delivery times may sometimes be longer due to extreme weather conditions or very far-distance locations.
How do I pay for an order?
You can place and pay for an order online. Your payment methods are Credit/Debit Card, PayPal or Direct Bank Transfer.
Why I can't finish my payment by Credit/ Debit Card?
When paying by Credit or Debit card we are using a 3D authentication for secure payment. Make sure that your browser is not blocking the pop-up window and then complete the 3D authentication.
How to pay with PayPal?
You can pay with your PayPal account or just by adding your credit/debit card details. You don't need a PayPal account.
How to pay with Direct Bank Transfer?
First, choose the Direct Bank transfer and place the order. Then our online order system will send you an email. The email will contain your order details as well as our company's bank details.
Can I order without paying VAT?
If your company is an EU-VAT registered business operating in another EU country, you can place an order without VAT.
VAT isn't charged on exports of goods to countries outside the EU.
To place orders without VAT please contact us at [email protected]
After I've placed an order, how do I get my tracking details?
Our online order system will notify you once the order has been dispatched. The email will contain your order details as well as all the tracking information. Please check your order carefully and notify us if there are any errors
How long does it take to charge my car?
This will depend on your EV's battery, the charging method and power you are using. Here is an approximate charging time table: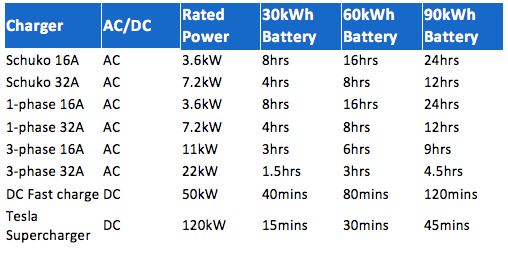 What is a 3-Phase cable?
A 3-Phase cable can charge your EV from 11kW to 22kW. This will be achieved only if the charging station can provide 3-Phase and the car can accept it. Having a 3-Phase cable charges the electric car quicker.
Can I use a 3-Phase cable in a 1-Phase charging station?
You can use the 3-Phase cables in a single-phase charging station and the other way. However, the power provided will be limited to 1-Phase (3.6kW-7.2kW).
Our 1-phase cable can be safely used in a 3 phase charge point, with both single-phase and 3 phase cars.
What is IP Rating?
The IP (Ingress Protection) rating is a number of two-digits established by the International Electrotechnical Commission. It provides an Ingress Protection rating to a piece or an enclosure of electronic equipment.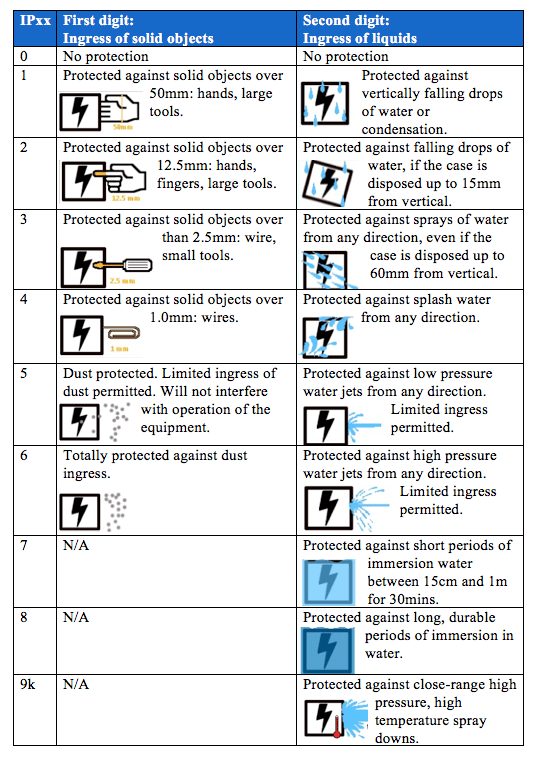 What is IP55?
The IP55 means that the cables with that protection will operate in dusty conditions and will resist water. They are protected from low-pressure water but shouldn't be submerged in water. Therefore, the cables can be used outside while raining. Always remember to use the cover to keep moisture and dust away from the connectors when not in use. The vehicle will not charge if it senses moisture. See the IP table below:
Can I charge my EV at home if I don't have a charging station?
Yes. You can charge from a standard schuko socket or a CEE socket using a charging cable with a control box.
How do I install charging stations?
You need a certified installer to install a charging station. A local electrician will be able to make the installation. We will also send you via e-mail an installation manual.
My electric car is not charging. What can I do?
Turn off your electric vehicle
Make sure you have correctly activated the charging station
If the car is not charging, try a different charging station
If the car still is not charging, try a different charging cable
Make sure, if the car has a charging timer button, that is off
If none of the above work, get the car checked out
If you have more questions contact us at [email protected]